~Free Shipping on All Orders! ~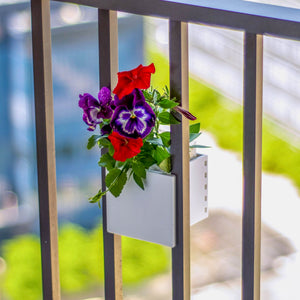 The Sprout Railing Planter
Sale price Price $14.99 Regular price $17.99 Unit price / per
Will Sprout Planter Work with my Railing?
Absolutely.
US Building Code standard railings (since 1991) cannot be spaced more that 4" apart. Sprout Planters will safely secure on railings with vertical balusters spaced between 3 1/2" & 4" apart.  Sprout fits just about any type of baluster: Wood, Iron, Round, Twisted etc. Measure the spacing of your baluster to make sure they'll fit - our guess is they will :)
"I love my Sprout Planter! It's a snap to install and very useful."
"I saw the ad on Facebook and was instantly obsessed. They don't obstruct our view and are really sturdy.  I love they that are made by US vendors and they add interest and color to our tiny balcony. I got a set of 5 for Mother's Day and I love them so much. Neighbors walking by keep asking where I got them. I'd love to see these in orange"
"We love our Sprouts and get so many compliments!  We were looking for a way to create a lovely outdoor space out of a small balcony. Sprouts were the perfect solution! They created an informal airy 'wall' of privacy and also let our herbs (which need lots of light) get the direct sun they need. They were super easy to snap in and water... They've also weathered several windy storms and not moved a bit.  We cannot say enough as to how Sprouts have added to our summer joy!"
"Love my little sprouts! Perfect for my small porch."
"I am very impressed with my new Spout Planters.  I can't wait until next summer to plant some trailing plants and try some new designs on my railing.  I love the affect the planters have added to my deck."
"Hi, I'm Sprout!"
I am a perfect urban gardening solution & totally awesome for balconies everywhere:
Apartments, Condos & Lofts
Townhomes & Row Houses
Assisted Living & Nursing Homes
Pool Decks & Patios
Made Local!
Sprout Planter is manufactured & assembled in Minnesota, USA.
One of a Kind!
Sprout Planter's Patented (US Patent No. 11,458,682), self-affixing design holds it in place between the vertical balusters of your railing.
Eco-Friendly!
Sprout Planter can be recycled at end of life & is made from post-consumer waste!